Surrendering a pet is never an easy decision.
But if you are no longer able to care for your pet, we are here to help.
Rehoming on your own
We know the idea of surrendering your pet to a shelter (even a great shelter) can be a scary prospect. If you think you might want to try to rehome your animal on your own, there are resources that can help: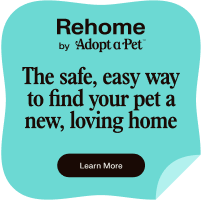 Surrendering your own pet
Please call our Intake department at (734) 661-3528 before coming in with your pet so that we can set you up with an appointment time; we're available 7 days a week, from 9 a.m. – 5 p.m.
Our primary service area is Washtenaw County, though at times we may be able to assist folks from other areas. Please know that we have limited space, and animals in our service area are our first priority. Please know that in order to give every single animal the best chance at finding a new, happy home, we may put your name on a waiting list, or ask you to call the shelter in your area. Regretfully, HSHV cannot help every animal.
After calling, and if you are told we can assist, please download and complete a surrender form below and bring your pet along with all available veterinarian records and proof of residency. You will be asked to pay a $40 surrender fee to assist in subsidizing your animal's care. (The average animal costs HSHV $325 to re-home.) If your pet has serious health or behavior problems related to aggression that will make re-homing not possible, we will talk with you about the owner-requested euthanasia process.
Bring a stray animal to HSHV
HSHV accepts stray companion animals from Washtenaw County and Plymouth. There is no fee, but we greatly appreciate donations to help cover the cost of care.
Please bring the stray animal to our Intake department during the hours of 9 am-5 pm, 7 days a week. Do not tie an animal outside the building or leave puppies, kittens or rodents in boxes outside the building.
Did you find kittens? Here's what to do
Have a stray animal picked up
While HSHV is the holding facility for strays in Washtenaw County, HSHV does not pick up stray animals. Please contact your local Law Enforcement Agency for assistance with pick-up.
Please, do NOT bring us strays from outside our service area
Sometimes folks try to mislead us in an effort to get us to help a stray animal not from our service area.  This is usually done with the very best of intentions, but can cause many problems in the long-run. Most significantly, a lost animal may lose their chance at getting home. If you live outside of Washtenaw County, Plymouth, or Northville City please contact the shelter in your county, as we cannot take a stray outside our service area.
We get it.  Many communities have shelters that don't meet good standards.  Often these are tax-funded facilities, and how they are funded and managed is a choice made by local officials.  Please consider expressing your concerns to the officials responsible for that shelter so that you can help make a difference for all homeless animals in your community.