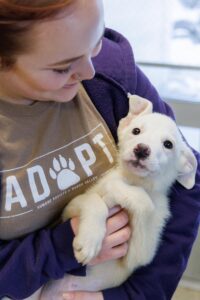 Ann Arbor, MI (October 11, 2023) –Charity Navigator announced its awarding Ann Arbor's Humane Society of Huron Valley (HSHV) with its topmost Four-Star Rating, for the 13th year in a row, placing HSHV among the top 1% of charities ranked nationwide.
In addition to signifying financial health and ongoing accountability and transparency, the rating designates HSHV as an official "Give with Confidence" charity. Charity Navigator is America's largest and most-utilized independent charity evaluator. Since 2001, the organization has been an unbiased and trusted source of information for more than 11 million donors annually.
"We are delighted to provide the Humane Society of Huron Valley with third-party accreditation that validates their operational excellence," said Michael Thatcher, President and CEO of Charity Navigator. "The Four-Star Rating is the highest possible rating an organization can achieve. We are eager to see the good work that HSHV is able to accomplish in the years ahead."
"Our Four-Star Charity Navigator is further validation that supporters can trust our commitment to good governance and financial health," said Tanya Hilgendorf, HSHV's CEO. "We're really honored to receive this recognition. We're deeply committed to excellence and innovation.  It's what we owe our animals and our supporters.  It's how we most effectively meet our critical mission."
"Some may not know that HSHV serves more animals than any other shelter in Michigan, and we hope this third-party rating will introduce our work to even more supporters so that we can keep doing more and better — to save and protect more animals and help the people who love them," says Hilgendorf.
The Humane Society of Huron Valley's rating and other information on informed giving are available free of charge on charitynavigator.org.
###
About The Humane Society of Huron Valley:
The Humane Society of Huron Valley, located in Ann Arbor, is an independent 501(c)(3) non-profit organization and relies solely on the generosity of our supporters to provide critical community programs and services. HSHV is an award-winning organization, recognized for our best practices and highest animal "save-rate" among all similar shelters in Michigan. Charity Navigator, the nation's top charity evaluator, awarded HSHV a 4-star ranking, the highest possible. The mission of HSHV is to promote the loving, responsible care of all animals in our community. HSHV is not affiliated with any other humane organization and does not receive funding from the United Way. More information can be found on HSHV's website (hshv.org) and on our annual report (hshv.org/annualreport).